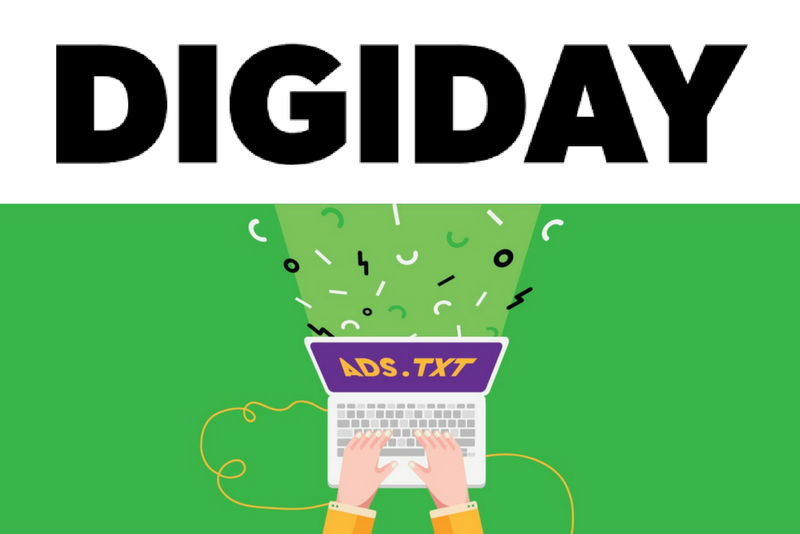 Ross Benes / January 22,2018
While there's debate over how to pronounce ads.txt, there's no arguing that among ad tech folk it's more popular than Tide Pods are with teens.
Launched by the Interactive Advertising Bureau Tech Lab in May, ads.txt is a text file that publishers host on their web servers that lists all the companies authorized to sell their inventory. Because ads.txt allows buyers to check the validity of the sellers they purchase from, it should help buyers avoid spoofed domains and arbitraged inventory.
Here's what you need to know about the state of ads.txt.
Key numbers
Uptake has increased a lot in the past few months. More than 90,000 sites now use ads.txt, up from 3,500 in September, according to Pixalate. Among the top 1,000 sites that sell programmatic ads, 57 percent now have ads.txt files, compared to 16 percent in September, per Pixalate.
Domain spoofing remains popular on programmatic exchanges. A recent study of a group of 16 publishers — including The Washington Post, Turner, Business Insider, The New York Times and USA Today — found that advertisers spent $3.5 million a day on fake video inventory that falsely claims to come from their sites.
Most of the line items on publishers' ads.txt files are for resellers. Among the top 1,000 Alexa sites, 76 percent of the vendors listed on their ads.txt files are resellers, according to FirstImpression's ads.txt dashboard.
About 16 percent of the top 1,000 Alexa sites have formatting errors in their ads.txt files, according to FirstImpression.
Google, which did more to popularize ads.txt than any other company in the ad industry, is by far the most popular vendor on publisher's ads.txt files. Google is listed on 97 percent of all ads.txt files, according to Pixalate. AppNexus and Rubicon Project are the only other vendors that top 50 percent.
The sell-side view
Because ad buyers are funneling their dollars through publishers that have ads.txt files, ad rates in Google's ad exchange are rising. This will make it more difficult for long-tail sites to earn ad revenue, said CafeMedia co-founder Paul Bannister.
"It is like picking up a stone and seeing all the bugs under it," he said. "You know something was there, but you are like, 'Whoa, that's a lot of stuff.'"
The buy-side view
Enough publishers have adopted ads.txt that small-budget campaigns can run exclusively on sites that have ads.txt files, said Matthew McIntyre, activation director at ad agency Essence. Large campaigns, however, still need to pull in publishers that haven't adopted the tool. About 60 percent of the inventory that Essence buys on the open exchange comes from sites that have verified ads.txt files.
One trade-off for advertisers is that ads.txt is raising premium publishers' programmatic ad rates. But because ads.txt helps mitigate domain spoofing, the higher ad prices should coincide with ads that perform better, McIntyre said.

What it means for the industry
Ad buyers, publishers, vendors and industry groups continue to adopt ads.txt. Just last week, the Trustworthy Accountability Group announced that publishers will have to implement ads.txt in order to get TAG certification.

DOWNLOAD NOW
The widespread adoption of ads.txt over the past few months puts pressure on vendors that don't have access to unique inventory. This pressure is reflected by resellers that ask publishers to list them on their ads.txt files, even when the publishers don't have a relationship with the vendors.
Most publishers and advertisers consider ads.txt a positive step toward cleaning up the murky ad-supply chain. But despite the breathless conference panels that ads.txt inspires, it has its limits as a fraud-fighting tool. Publishers misspell vendor names in their files, leading buyers that filter inventory with ads.txt to inadvertently bypass the publishers' inventory. It also doesn't prevent middlemen from repacking display inventory as video and arbitraging the difference between display and video CPMs.
"The fact that the industry has had to create a standard around counterfeit inventory means that as an ecosystem we've lost our way," said Nick Jordan, co-founder of data platform Narrative. "Basically, it is a technology solution to a much more insidious and systemic problem and akin to fixing a compound fracture with stitches."