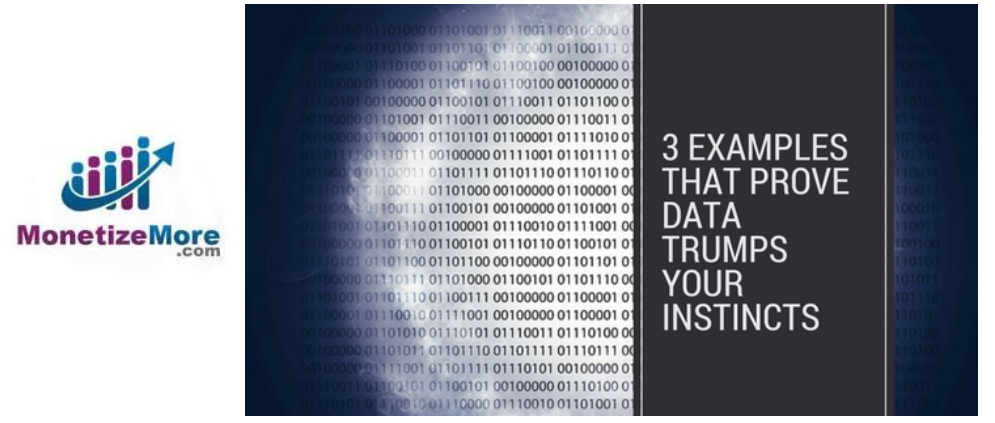 Monetize More: 3 EXAMPLES THAT PROVE DATA TRUMPS YOUR INSTINCTS
Roy Peleg, FirstImpression.io CEO / Feb 9, 2017
This blog post originally appeared on the MonetizeMore blog.
How many times have you been told to trust your instincts? We've all heard that instincts are often right. That they're based on accumulated experience. That they ensure our survival and ability to respond quickly.
But when it comes to business decisions, quick mental shortcuts can be dangerous. Despite 15 years experience in online publishing and advertising, the level of granularity that is needed to achieve basic goals still surprises me.
Every website is different, from its unique page layouts to user behaviors. And the whole online space is changing so rapidly, from screen sizes to user expectations, that each website should constantly be optimizing its ad monetization strategy.
The results of digital advertising are difficult to predict. In this industry, data must trump instincts.
Here are 3 common publisher assumptions that I regularly come across. They may indeed be true for your website. But if you don't test, you don't know.

ASSUMPTION 1: THE MORE ADS ON A PAGE, THE LOWER THE PERFORMANCE OF EACH ONE.
This assumption holds true as a very general rule. You know the theory: the more ads on a page, the greater the competition for a user's precious attention, and the less attention that user pays to each ad.
The reality is more nuanced. Different combinations of ad products affect each other and the user experience differently. Certain ad products in certain situations can increase the performance of other ad products on a page.
Take as an example a large entertainment news site that FirstImpression.io recently started working with. After adding a 'Read More' ad product, which shortens the visible text and invites users to click a button to reveal the remaining text, their existing content recommendation widget (which is just another ad format) was pushed higher up the page. It became visible more often. CTR increased by 67%.
ASSUMPTION 2: USERS WHO READ YOUR CONTENT ARE THE MOST VALUABLE.
Users who read your content are valuable, sure. But did you know that 60% of social shares come from users who have never read the article? That's the key finding of a study at Columbia University and the French National Institute.
Increasing numbers of publishers, including many in the entertainment and lifestyle verticals, rely on the shareability of their content to attract readers. The impact of engagement – shares, clicks, and comments – on your traffic and revenue, can completely overshadow the value of mere readers.
Have you tested the impact of social share icons at the top or in the middle of the content of article pages? Do you test titles and pictures to improve the shareability of your articles? How about using different images and titles for your articles when they are being shared versus the ones when people read them? This could pay off exponentially for publishers who rely on organic social traffic.

ASSUMPTION 3: LESS THAN 100% FILL MEANS LESS THAN OPTIMAL REVENUE.
We tend to assume that more is better. The request of many publishers for 100% ad fill makes sense if you still have hard-coded ad placements on your website and no alternative to the blank spaces they leave when there's no fill. Or if you're working with direct campaigns and have fixed CPMs.
In the world of programmatic advertising, however, different rules may apply. Let's simplify the numbers here. Say you can decide between a $3 CPM with 50% ad fill, or a $1 CPM with 100% fill – what do you choose? Fill rate doesn't always correlate with revenue. Start with a lower floor price that will give you higher fill. Increase it slightly and see if you can maintain or increase revenue with a lower fill. And keep on going until you find the point which maximizes revenue.
From my experience, floors should be tested daily. Keep in mind though, that if increasing your floor price results in lower revenue, it could be because of how your demand partner is allocating campaigns to your inventory given the new floor. Sometimes doubling the floor at that point would actually result in a whole set of new campaigns with higher total revenue. Testing is key.
—-
This blog post originally appeared on the MonetizeMore blog.
Roy Peleg is the CEO and co-founder of FirstImpression.io. With no hard coding or development work, FirstImpression.io creates and monetizes ad placements that are highly customized for specific page layouts, user behaviors, screen sizes, and editorial requirements. Roy has led 4 different tech ventures and is a passionate digital marketer with 15 years of experience in SEO, affiliate marketing, and online publishing.